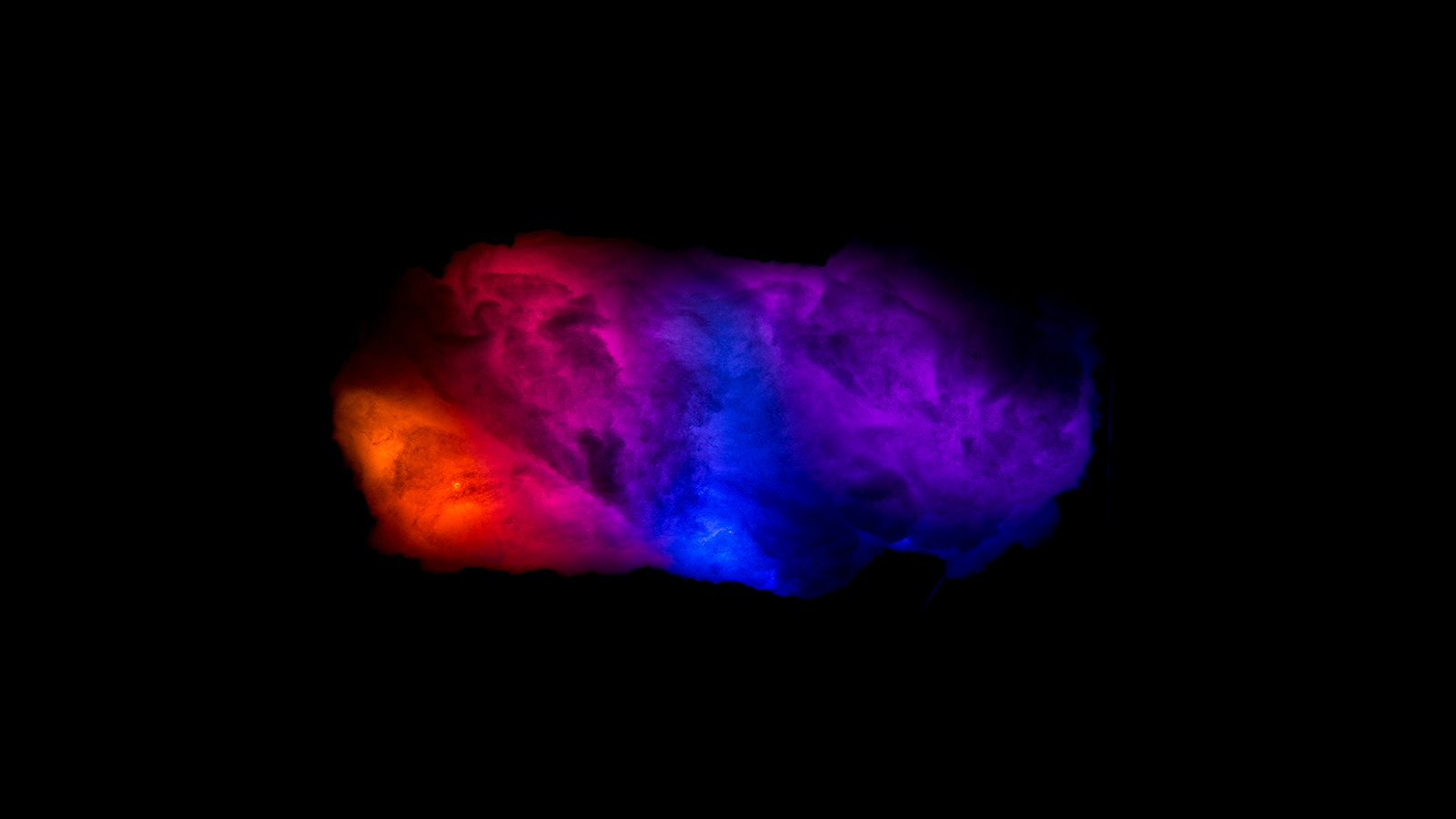 As a project for our experiential design course, my team (Christina Weng, Carlo Dormiendo, and myself) were prompted to design a physical computing project that allowed users to interact with sound, motion, or light. We chose to explore how interactive forms of light and collaboration could be combined to create memorable experiences. Over 5 weeks, we designed and delivered an interactive light installation for simultaneous interaction of up to three users, each controlling a unique colour spectrum to collaboratively generate unique lighting patterns over the installation's surface.
Background & Design Statement
As technology advances, more and more our interactions with technology are becoming solitary experiences. We are continuously given exponentially more powerful devices that allow us to create and share those creations, but they often isolate us in our physical environments. By isolating ourselves in our physical environment, we strip ourselves of one of the greatest allies to creation: Collaboration. When you collaborate to create, it is one of the best ways to ensure you create a work that is more than just the sum of its parts.
Research: Trends In Experiential Installations
We looked at projects like 21 Swings in Quebec as an inspiration for the kind of delight and joy we wanted to get out of our users by replicating that with light. Around the same time as our project was taking place, an installation called Love Lights was activated in the Toronto area, and this provided an excellent reference for the kind of collaborative, light based activity we were looking to create on a much larger scale and with a different theme. We also researched projects launched at Nuit Blanche and the pop-up experience industry overall. What we found was that an entire new kind of social entertainment industry is being created around unique social experiences marketed to groups of friends.
Design Concepts
We experimented with several different forms initially, looking at how we could make the installation dynamic in its appearance, ability to display colour, and facilitate collaborative interactions. We sketched and talked through several different iterations and forms of interaction.

A generative tabletop installation that illuminates different surface areas as determined 
by multi-user touch and coordination.
A competitive game where users conquer the lighting of an undefined form to eventually "win" by capturing territory, represented by areas lit across the form's surface.
Both of these ideas didn't really capture the collaborative nature we wanted to evoke in both the actual physical interaction (tapping a board or other form) and the experience as a whole (collaborating to create a new form of light). In the end, we prototyped interacting with force-based (squeeze / press) sensors and found they had the tactile reaction we were looking for as well as allowed multiple simultaneous user inputs.

Prototyping & Constraints

We primarily prototyped the lighting system and the material used to diffuse the lighting. For lighting we were instantly drawn to the WS2812 LED strips because of their affordability and re-usability. For the actual material covering the LEDs, we experimented with paper stuffing, other mediums of paper, and fiberfill (pillow stuffing). We quickly realized using the fiberfill would diffuse the light properly and evenly across the entire form. For the frame, we ended up re-purposing the base shapes of a generative form that had been used for another project and experimented with different configurations of the pieces before setting on a shape that would create a cloud-like shape.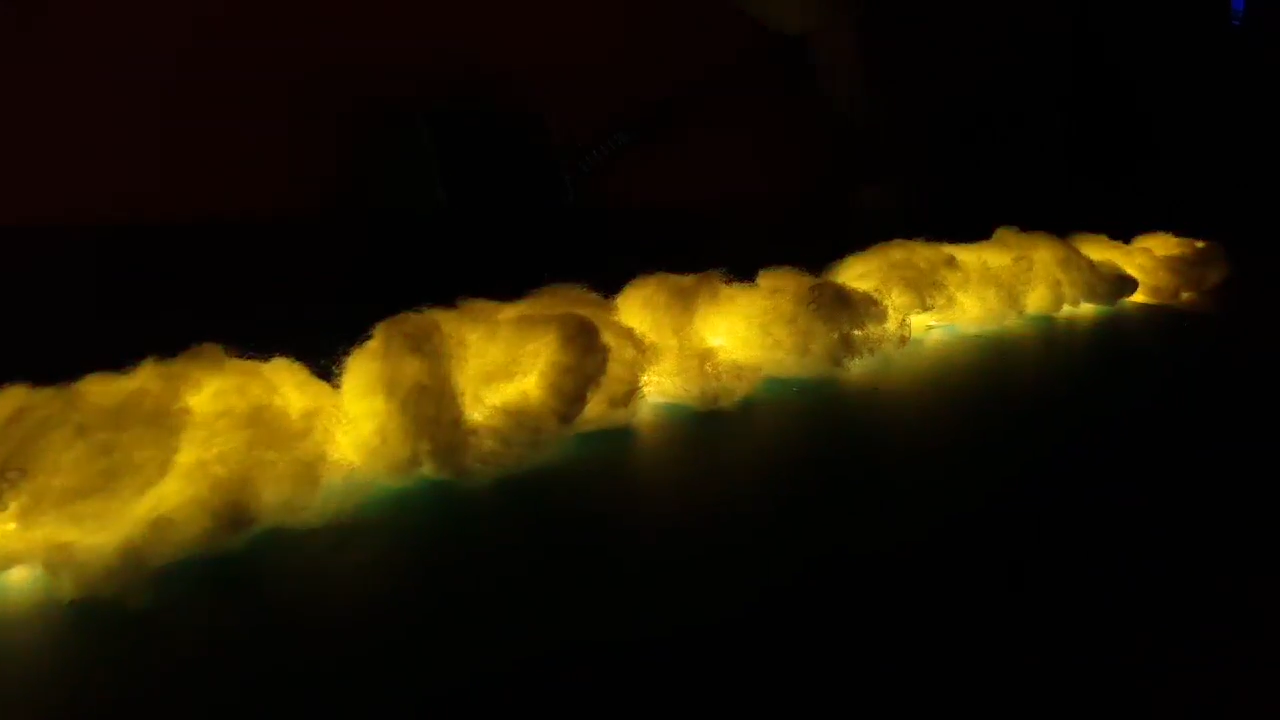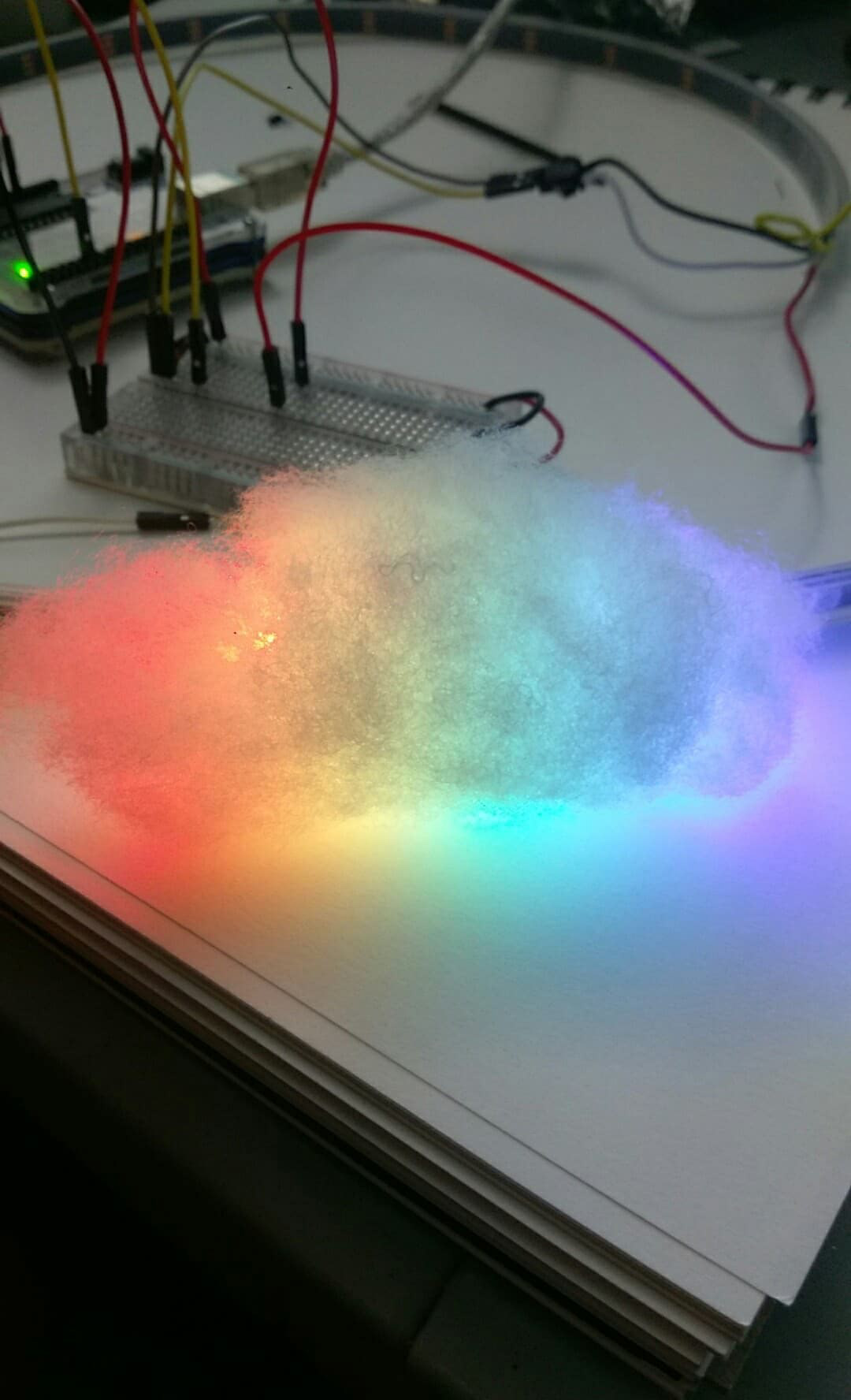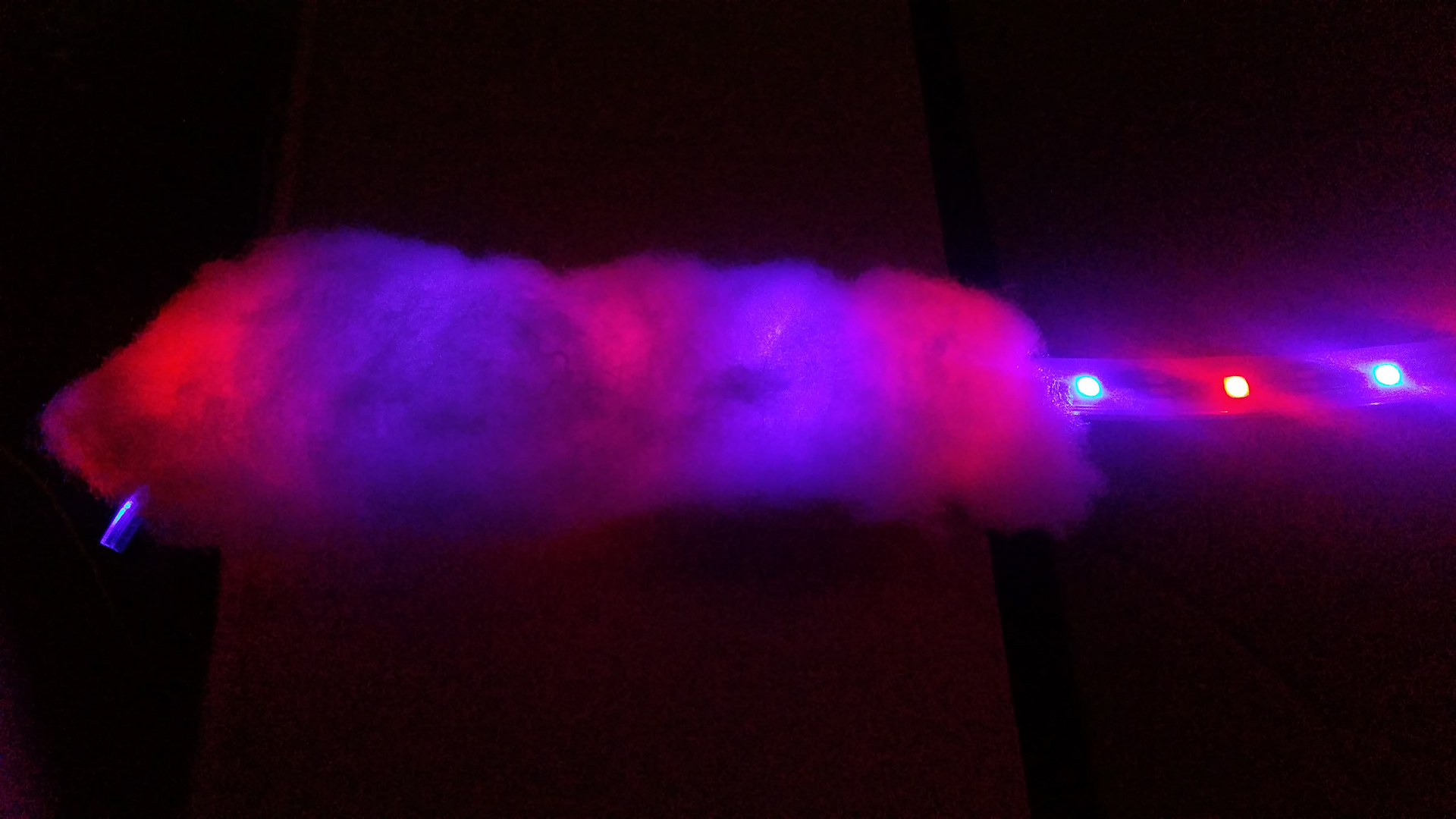 Fabrication & Assembly
The technical details of the project are as follows: Pillow stuffing / fiberfill covering 117 Neopixel LEDs mounted to laser-cut modular generative frame made of birch plywood, an Arduino Uno R3 attached to the back of the installation with a 3x AA batteries powering the LEDs, the Arduino and the 3 1.5 inch Force Sensitive Resistors (FSR) sensors for input.
The frame was assembled with wood glue, the LEDs were secured to the cloud with fishing wire (for easy disassembly)  and the fiberfill was layered evenly over top of the LEDs and frame. The FSRs hung down with braided wire below the frame and were covered in a small layer of fiberfill for aesthetics. Assembling the final piece took several hours and included adjusting the position of the fibrefill and and LEDs to ensure even distribution and diffusal of the light.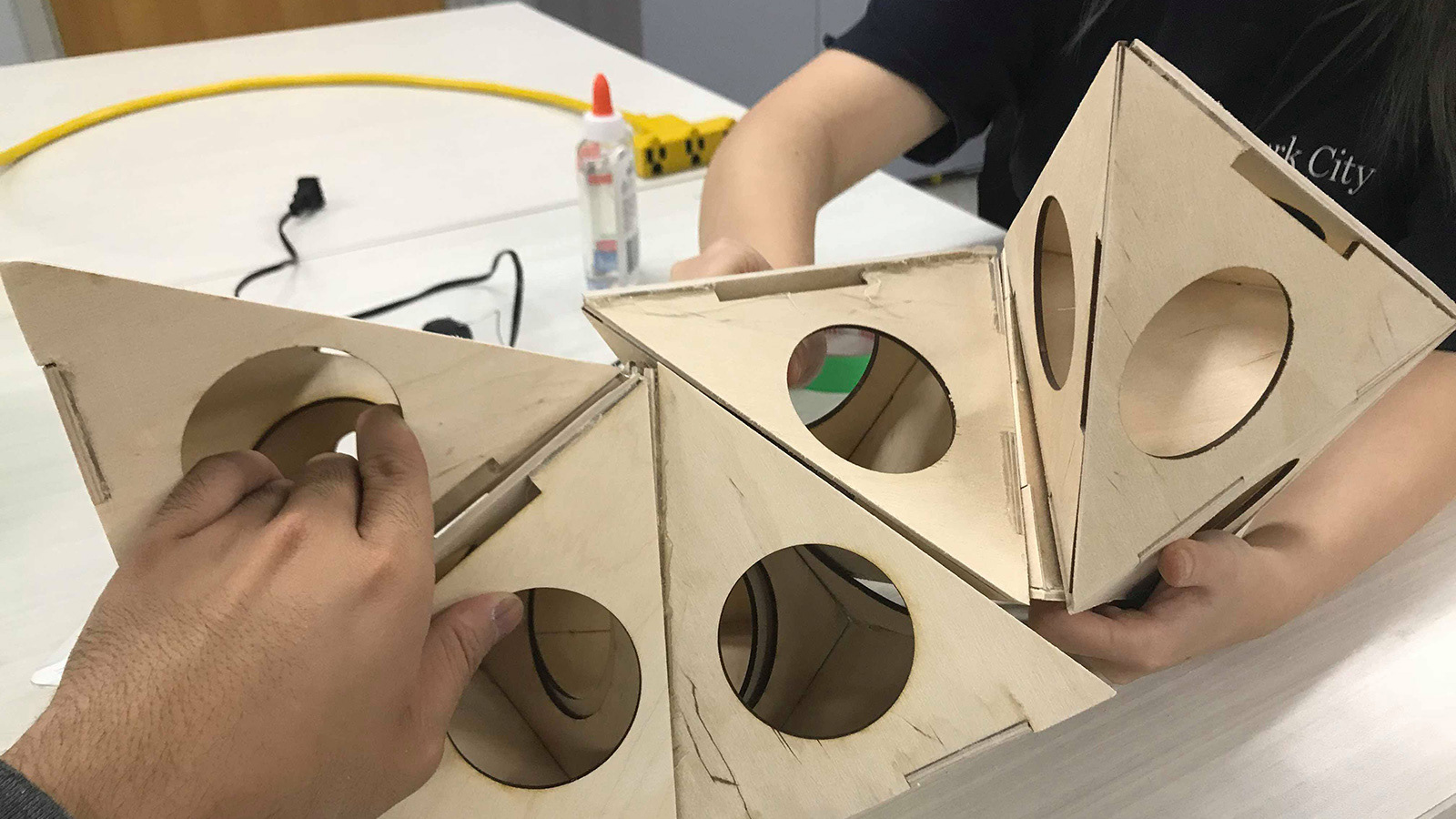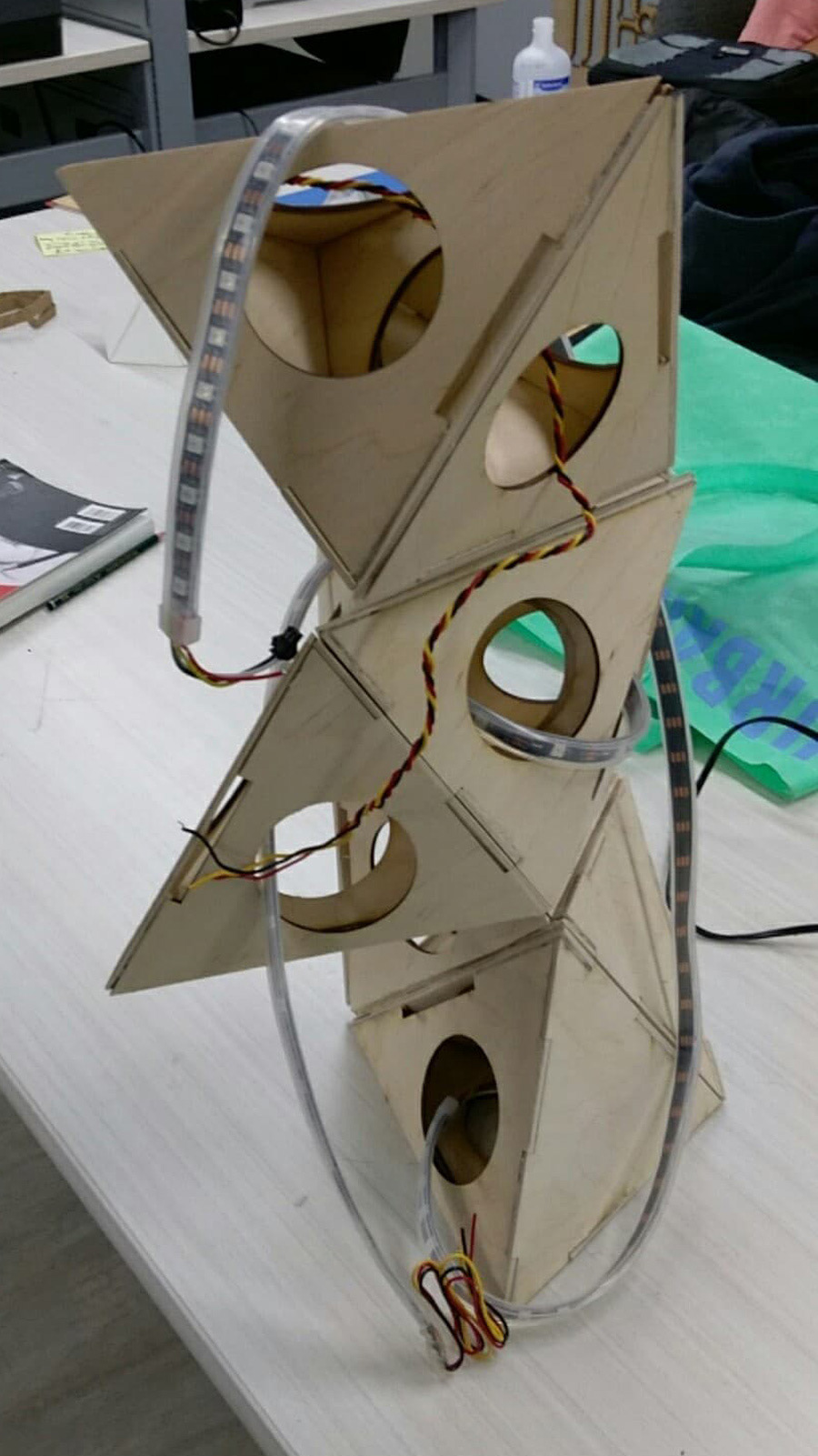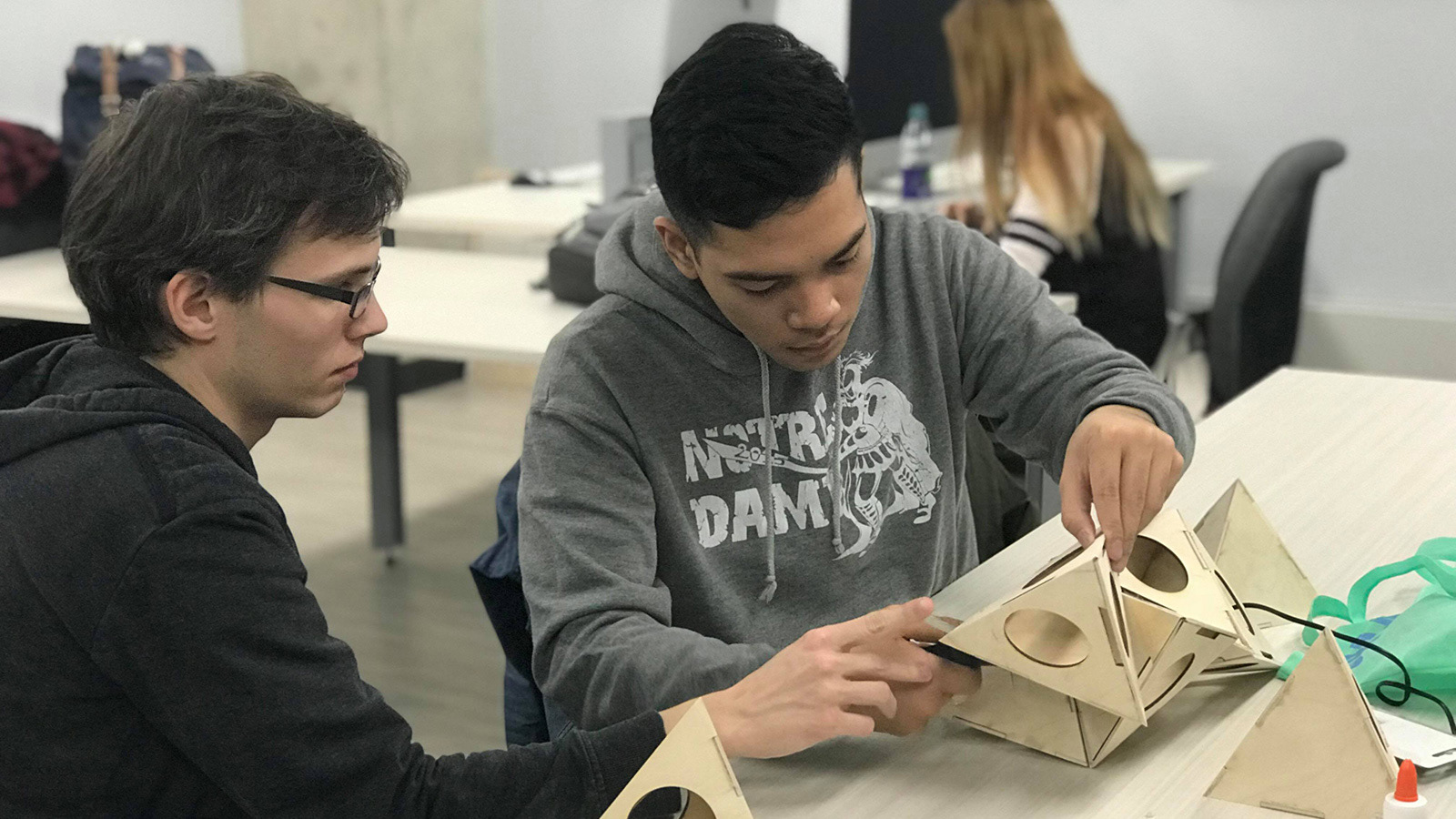 The Assembled Pixel Cloud